Martinus Cosmology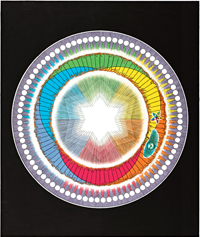 Martinus has made a series of cosmic symbols that use colours and figures to illustrate life's eternal, spiritual laws and principles. The symbol above shows Martinus' main symbol of the eternal universe or the Godhead. See the symbol with explanation.
Where ignorance is removed, so-called "evil" ceases to exist.
(Livets Bog (The Book of Life) 1, sect. 19)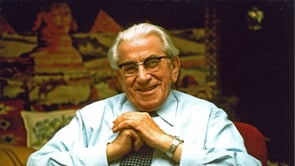 Watch a short video presentation of Martinus and his works (9 min.)
"Who am I?" . . . "Do suffering and death have any meaning?" . . . "What is the significance of love?"
An eternal world picture
Martinus (1890-1981) has described in his works - collectively known as "The Third Testament" - a logical, cohesive world picture that shows that all living beings form part of a living universe and evolve continuously towards higher forms of life. The great upheavals and crises of our time are expressive of the downfall of a world culture and the birth of new, humane world society.
A spiritual science

In a logical and scientific way the analysis of the living universe makes it probable that an eternal, all-loving God exists, a God that has always been the source of religions and spiritual life. Martinus also shows how our consciousness, psyche and morality evolve through reincarnation and karma according to natural laws that in the course of time result in all experiences, both pleasant and unpleasant, benefitting the individual. Martinus' collected works constitute a cosmology or spiritual science that can give the reader an optimistic view of life and inspire him to practise tolerance, neighbourly love and a living relationship to God.

The Third Testament

Martinus' main work consists of Livets Bog (The Book of Life) in 7 volumes. The Eternal World Picture in 5 volumes forms a supplement to Livets Bog. He has also written a series of other books and a substantial number of articles and many of his lectures have been transcribed and published.
The Martinus Institute
The Martinus Institute, which is located in Denmark, is responsible for publishing Martinus' collected works in all languages and offers an extensive programme of courses and lectures. There is no form of association or membership in connection with the Martinus Cosmology.