News
500,000 Danish kroner for new and creative ways of presenting Martinus's world picture
19.03.2018
One of the most important functions of the Martinus Institute is to disseminate knowledge of Martinus's spiritual science. In order to strengthen efforts in this area, the Council of Martinus Institute has therefore allocated a pool of 500,000 Danish kroner to the launching of new activities.
The money can be used for launching activities at the Martinus Institute, the Martinus Centre, Klint or online.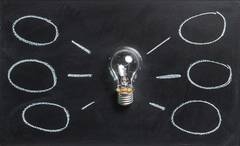 The project is coordinated by The Idea Group for the Renewal of Presentations, consisting of Per Jan Neergaard and Lennart Pasborg. In the spring of 2018 the idea group will provide a detailed draft outline and a list of ideas with a number of concrete proposals for projects.
We do, however, call on all those who are interested in making their own proposals to do so now.
Concrete proposals can be sent to perjan@martinus.dk and lennart@pasborg.dk, who are happy to answer questions.
You can participate in two ways
All interested parties can sign up as a participant in one of the proposed projects, or you can apply for funds for the implementation of your own project. All submitted projects are assessed by the Ideas Group, which, together with the Economic Committee, will submit appropriate projects for final approval by the Council.
Projects that are launched will have a project coordinator who will put together an appropriate working group. The project coordinator is responsible for the preparation of the description of the project and its budget. The Economic Committee is happy to help with this. Contact Peter at peter@martinus.dk.
Think outside the box!
We would like to have new ideas and ideas from a lot of different people, so don't hold back! Everyone is welcome.
Projects can be about making the experience of visiting the Martinus Centre, Klint more interesting and inviting. The decor, the content of retreats, what can the centre be used for? How do we make the centre an international centre for education and culture in the spirit of the new world culture?
How do we bring more life to the Martinus Institute? Should it be furnished differently? What new activities should we have? What should visitors experience when they visit the institute? What can the Institute be used for?
In these years there is a rapid development in the way that museums, educational and cultural institutions disseminate knowledge. It has suddenly become more exciting to visit museums – both physically and online! Perhaps we can transfer ideas and experience from totally unrelated areas. Some may have good experiences from other areas and domains that can be "translated" and made useful for us. Come to us with your ideas!
With best wishes,
The Economic Committee, The Martinus Institute