News
New info-material about Martinus Cosmology: Introductory brochure and videos
14.11.2012
New introductory brochure about Martinus Cosmology
The Martinus Institute has published an 8-page introductory brochure about Martinus Cosmology.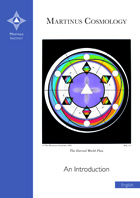 On the front cover you will find Martinus' symbol no. 13 "The Eternal World Plan". The brochure's themes include: a science of life; the development and refining of our mentality; the justice of life; the transformation of the sexes.
You can read or download the brochure here on our homepage. You can also have the brochure sent to you by post free of charge. You are welcome to order in bulk if you want to use the brochure in connection with lectures, courses, study circles or other activities.
You can use the order form on our homepage or send an email to info@martinus.dk.
For the moment the brochure is available in Danish, Swedish, English and Spanish. It will be available in other languages later on.
Watch a video introduction to Martinus Cosmology


Watch some short introductory videos that deal with central themes of Martinus Cosmology. You can also watch a 44-minute television film that presents Martinus - the Man and his Cosmology