Symbol 28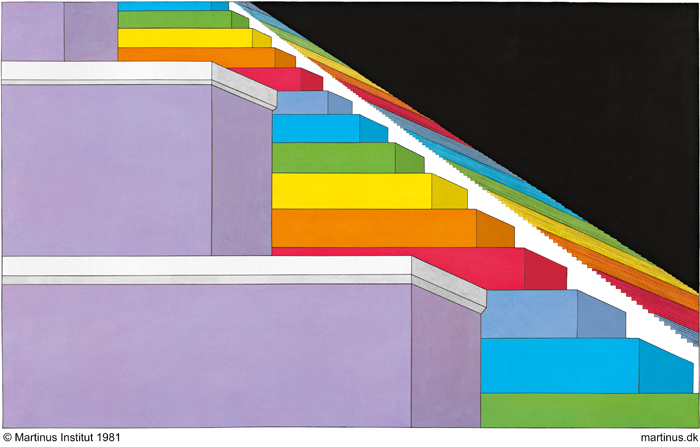 Eternal Life or the Ladder of Life
A Summary Explanation of Symbol No. 28 - Eternal Life or the Ladder of Life

The symbol symbolises that the eternal life of the living beings take the form of an eternally ascending journey through life. This journey has its ascending and descending epochs, but it always leads forwards - not backwards. The descending epochs are essential, enabling the being to experience higher epochs or cosmic spiral cycles later on. From a holistic perspective they are therefore to be regarded as ascending epochs.
The main details of the symbol:
The large violet steps each symbolise a spiral cycle, that is, an epoch of life experience within which the beings experience the culmination of darkness and the culmination of light.
The violet spiral step in the middle spans six coloured sections: the planes of instinct, gravity, feeling, intelligence, intuition and memory. The later four planes are kingdoms of light, while the plane of gravity, that is, the animal kingdom, is the plane of darkness, which begins unobtrusively in the latter part of the kingdom of instinct, that is, the plant kingdom.
Each spiral step has the same structure and the same planes of existence, but new variations of them.
The coloured sections with the steps furthest to the right symbolise that the planes of existence have many smaller, local steps. These are, for example, the individual terrestrial lives, the cycles of the year, the twenty-four-hour cycles, among others.

See also Martinus' description of symbol no. 28 in The Eternal World Picture 3.